Evans East Animal Hospital
Your Pets. Your Family.
Our Priority.
Evans East Animal Hospital strives to offer excellence in veterinary care to pets and pet owners in Denver, CO, and neighboring communities.
Integrity  –  Advocate  –  Compassion  –  Progressive  –  Quality Care
About Evans East Animal Hospital
Here at Evans East Animal Hospital, our goal for more than six decades has been to provide Denver, CO, and surrounding areas with the highest-quality veterinary care possible. We are committed to promoting responsible pet ownership, preventative health care, and health-related educational opportunities for our clients. We pledge to provide the finest veterinary service, kind words, and a positive attitude.
We are AAHA-Certified
Our commitment to AAHA's benchmarks of excellence means we are always striving to improve our medicine to provide the cutting-edge, advanced treatment your pet deserves.
Complete Veterinary Services in Denver, CO
Whether it's standard veterinary services like comprehensive prevention and wellness protocols or urgent care and surgical services, Evans East Animal Hospital is there for you and your four-legged companion every step of the way.
Veterinary Doctors & Staff in Denver, CO
Our veterinary doctors, staff, and resources ensure you'll receive the highest-quality veterinary care at Evans East Animal Hospital. Our vast veterinary services include everything from general exams and consultations to complex surgeries by board-certified surgeons. In every aspect of our work, we emphasize compassion, clear communication, and warmth, as we know how essential your animal companion is to you!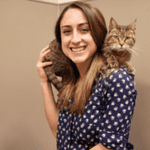 We Love to Hear About Your Experience with Us!
When you're happy, we're happy! We thank you for making Evans East Animal Hospital your top veterinary choice in Denver, CO.
Dr Whitehouse and the staff at Evans East Animal Hospital are stellar! The Dr was completely kind and attentive in helping care for my sick kitty. Her knowledge of options in the route to take put me at ease and made me feel assured and supported through a tough time. She was able to text me information which in this busy day and age was a huge help. I am forever thankful for their care and expertise!
A Medina
Dr. Howell was very attentive and thorough with Hank's needs. He went as far as reading Hank's history before his assessment and extended himself to educate me on how to monitor for another condition unrelated to my appointment. We typically see Dr. Katz, but she didn't have same day availability. We were fortunate to land in such great hands on short notice! Thank you Dr. Howell!!
Allison
My dog would occasionally limp and whimper (momentarily) then he was ok … thought he had hip dysplasia … it was worrisome enough we brought him here, and im glad we did. The staff was super friendly, the business is spacious … the doctor & vet tech were AMAZING. They were down on the floor with my pup, trying to put him at ease. (Very anxious) The overall experience was wonderful. I'd absolutely bring my dogs here when needed!
Ashley Krischel